Retour
PowiDian expands its MobHyl Power range
Author PowiDian
Date 10/27/2021
Contact communication@powidian.com
PowiDian expands its MobHyl Power range with the launch of its new hydrogen generator set: the M110
La Ville-aux-Dames, 27 October 2021 – PowiDian, French specialist in green hydrogen powered generators and light utility vehicles, announced today the launch of the M110, its new hydrogen powered generator. The M110 is currently available for sale and for rental from January 2022.
Anis Ayoub, MobHyl Power BU Director at PowiDian, comments: "The development and launch of this new unit is part of our approach to expanding our MobHyl Power range, which is dedicated to companies who are committed to an ecological transition strategy. The M110 is a concrete solution for replacing fossil fuels. Thanks to the feedback from the M30 model, we are offering an even more powerful, reliable, robust and autonomous model, particularly suited to the needs of construction sites or public events."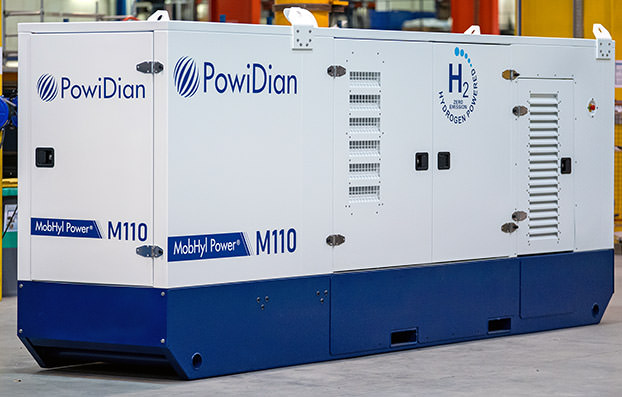 The M110 offers an output of 110kVA thanks to its 70kW fuel cell and 60kWh of built-in Li-ion batteries. It is suitable for use in sub-zero temperatures down to -20°C, without the need for an external power supply, making it an ideal choice for winter construction sites, in addition to its instant start-up and responsiveness. 
This new model integrates an intelligent control system with an intuitive interface, PowiDian's "Master Controller". It enables consumption optimisation and management control of the set in a remote, secure way.
The M110 has a market-leading 10-year service life, thanks to its fuel cell derived from heavy-duty mobility. This fuel cell also improves the overall reliability of the power supply compared to other generators with cells from lighter vehicles.
No compromises on carbon emissions
The M110 incorporates PowiDian's expertise in environmentally friendly technologies. The generator emits no greenhouse gases, fine particles, nor any other pollutants.
Jean-Marie Bourgeais, Founder and Director of PowiDian, adds: "Our objective is simple: to participate in the development of the hydrogen value chain, which in recent months has seen significant enthusiasm from manufacturers and unprecedented support from the French and European public authorities. The M110 is a concrete solution for replacing traditional fossil fuel generators, allowing manufacturers in all sectors to decarbonise their activities without modifying their existing infrastructure. We are working hand in hand with local green hydrogen producers so that our customers can supply our generators in the most responsible way possible, pending the structuring of a strong and resilient French low-carbon hydrogen industry."
About PowiDian  
PowiDian is a pioneer in solutions for the production and storage of energy produced via "green" hydrogen and has been working for more than 10 years on the national ecological transition thanks to its autonomous stations and its mobile or stationary "zero emission" hydrogen generators. In September 2021, the group launched PowiDian Mobility, a subsidiary dedicated to the development of electric utility vehicles. Based in La Ville-aux-Dames in the Centre-Val de Loire region, PowiDian currently employs 40 people. PowiDian has been a holding of Xerys Invest since 2014 and partners with the Bouygues group since 2020.  
For more information: www.powidian.com 
About Xerys Invest
Xerys Invest is a French investment company primarily positioned on trending sectors that include healthcare & Life Sciences, renewable energy/GreenTech and new digital technologies. As such, Xerys Invest supports companies in industries undergoing major transformation to address economic, environmental, and societal challenges that have great ambitions for their growth and international expansion. 
In its market, Xerys Invest stands out as much for its modus operandi and the strategic and operational support it provides to portfolio companies, as for the range of à la carte investment opportunities offered to investors and the firm's close relations with them, or its sector-based approach. Lastly, Xerys Invest has considerable sector expertise, bolstered by a strategic committee made up of recognized specialists and experts in key sectors. 
For more information: www.xerys.com