Retour
Côte d'azur university transitions to renewable energy and hydrogen by way of the "h2éliotech" project
Author PowiDian
Date 01/05/2021
Contact communication@powidian.com
Côte d'azur university transitions to renewable energy and hydrogen by way of the "h2éliotech" project on its sophiatech campus, drawing on the expertise of bouygues energies & services and its partners powidian and solstyce.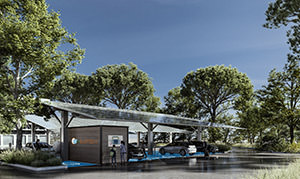 Côte d'Azur University and Bouygues Energies & Services are proud to announce the launch of the "H2ÉLIOTECH" project on the SophiaTech campus, which aims to reduce energy costs and optimise the overall performance of the site, relying partially on photovoltaic and hydrogen solutions. This project is part of the France Relance 2020-2022 plan, implemented by the government, which provided Côte d'Azur University with funding to upgrade its main campuses and improve the environmental and energy performance of its buildings. Following a call for tenders, Bouygues Energies & Services, in partnership with SOLSTYCE and POWIDIAN, was selected by Côte d'Azur University to carry out this project. This contract represents an opportunity for this group of energy transition experts to capitalise on their complementary know-how: POWIDIAN is a hydrogen expert, Solstyce is dedicated to solar energy, and Bouygues Energies & Services specialises in the deployment of energy infrastructures.
The proposal encompasses several elements: the installation of solar carports over car parks, charging stations for electric vehicles, solar panels on roofs, and a hydrogen solution that will improve on-site consumption by storing surplus solar electricity in the form of hydrogen. This technology can also serve as an educational tool for teacher-researchers and students at the Polytech Nice Sophia engineering school who are studying decarbonisation and the energy transition.
This hydrogen demonstrator, specially developed for this project, will be connected to the SophiaTech campus to create a real integration and testing platform. It will be made available to the team of teachers-researchers and students in order to allow them to access all the data and control parameters for the hydrogen system.
"As a major player in research and development, our university is proud to be a trailblazer and pioneer in the implementation of innovative renewable energy solutions. Thanks to this project, Côte d'Azur University will be, to my knowledge, the first university and the first engineering school to have a complete hydrogen chain demonstrator. We are even considering using this energy source to power a new data centre, thereby making it more environmentally friendly and securing a sustainable energy supply. This tool will allow teacher-researchers and students to study and understand the hydrogen energy transition that is currently underway, helping them to contribute to the European and French Hydrogen Strategies," explained Mr Canin, Director of Heritage. 
Côte d'Azur University will also benefit from Bouygues Energies et Services' facility maintenance and operating services for the next 8 years.
With this new contract, Bouygues Energies & Services is once again demonstrating its commitment to decarbonisation and the energy transition, strengthening its position in the renewable energy sector. 
"We are proud and honoured that our collective work has led to such an innovative new project, which will advance both education and the energy transition. Bringing such innovative facilities to the university sector is a great opportunity for our company to explore new spaces and contribute to research and development. Thanks to the demonstrator, which can be studied by both teaching staff and students, we are able to meet an educational challenge and help them to play their part in decarbonisation and the energy transition, which are pressing issues for our future," noted Caroline Mazzoleni, Deputy Director of Hydrogen and Smart Energy at Bouygues Energies & Services.
SOLSTYCE is reinforcing its position as a leader in the world of complex and multiform photovoltaic solutions, deploying a range of options that are tailored to the architecture of the site. 
"SOLSTYCE's main goal has always been to offer solutions that are adapted to our customers' needs, with a particular focus on site integration. For the SophiaTech campus, we are going to deploy solar carports and installations on roof terraces, responding to the thermal issues faced by the Nice Côte d'Azur IUT by using semi-transparent photovoltaic panels as "brise-soleils" on the front of the facade. All of our plans are based on simple and practical solutions developed by our teams over the years. Our subsidiaries ENERPUR ETANCHEITE and MOBILIZE POWER SOLUTION will also be responsible for waterproofing work and installing charging stations for electric vehicles. This is our favourite kind of project, and we are excited to implement a comprehensive range of solutions: storage, waterproofing, electric vehicle charging, and photovoltaic technology," summarised Michael Leboucher, SOLSTYCE's Director of Operations.
As a start-up specialising in the integration of high-tech renewable hydrogen solutions, POWIDIAN is bringing a high level of expertise and know-how to the project. 
About Côté d'Azur University
Côte d'Azur University is an "experimental" university that replaced the University of Nice Sophia Antipolis and the Côte d'Azur University COMUE on 1 January 2020. The decree establishing the university was published in the Journal Officiel on 26 July 2019. Recognised as an Initiative d'Excellence in 2016, Côte d'Azur is one of France's leading research universities. Divided into internal sections with various responsibilities, driven by its dedication to exceptional research, strongly rooted in the local area, and associated with major national researchers, Côte d'Azur University is striving to shine on an international level, ranked among the best European universities.
About Bouygues Energies et Services
Bouygues Construction's Energy & Services Division is a major player in the digital and energy transitions, supporting regions, businesses and buildings, and is a key growth driver for Bouygues Construction. With more than 21,000 employees, the Energy & Services Division carries out the majority of its work in Germany, Canada, France, Great Britain, Italy and Switzerland, in addition to serving customers in Africa, Asia and Oceania.
The development of regions, businesses and services depends on an optimal flow of energy, data, services and people. To this end, Bouygues Energies & Services designs, builds and implements solutions for the production, distribution and use of sustainable energy, in addition to supporting the digitalisation and development of innovative services for local residents, industry players and service users. The Energy & Services Division accounts for one third of Bouygues Construction's business.
About SOLSTYCE
Backed by 10 years of experience, SOLSTYCE offers its customers comprehensive support for the engineering, construction and operation of photovoltaic plants. SOLSTYCE plays a vital role in the integration of photovoltaic energy into the cities of tomorrow, and is recognised as a leader in terms of innovative energy projects that combine energy storage, electric vehicle charging and carbon footprint optimisation. 
About POWIDIAN:
PowiDian is a pioneer in the production and storage of energy produced via "green" hydrogen. For more than 10 years, PowiDian has been working to advance the environmental transition thanks to its autonomous stations and its mobile or stationary zero-emission hydrogen generators. In September 2021, the group launched PowiDian Mobility, a subsidiary dedicated to the development of electric commercial vehicles. Based in La Ville-aux-Dames in the Centre-Val de Loire region, PowiDian currently employs 40 people. PowiDian has been a holding of Xerys Invest since 2014, and is proud to count the Bouygues Group as a partner since 2020.