Retour

PowiDian delivers a hybrid hydrogen/solar generator for Beaufort
Author PowiDian
Date 10/29/2021
Contact communication@powidian.com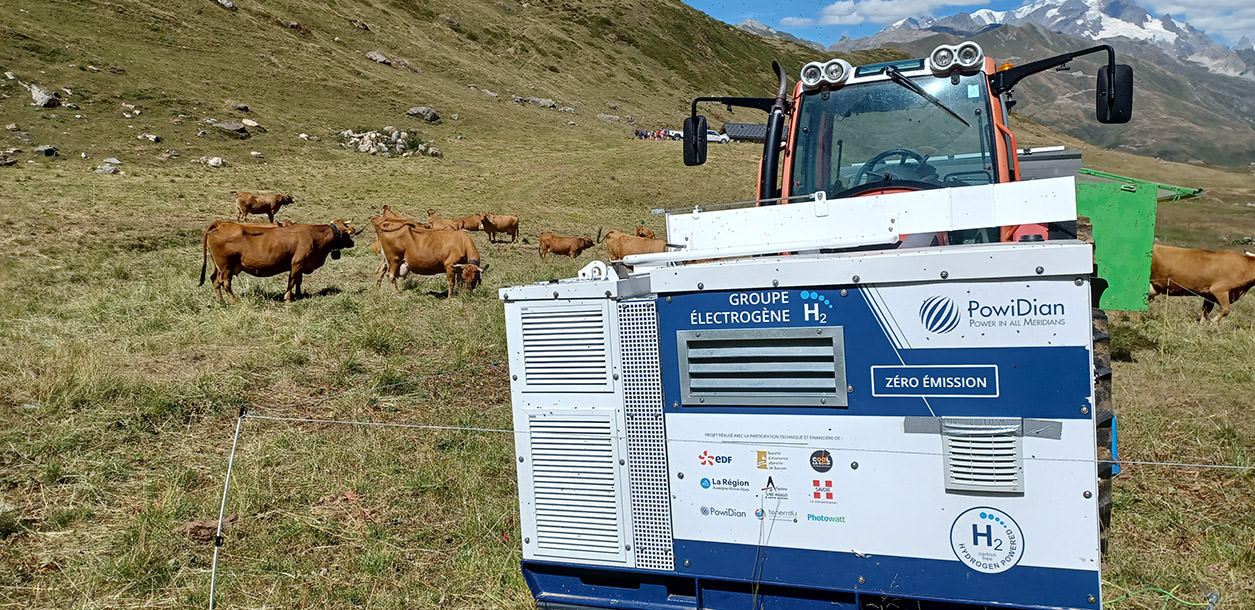 Innovative, clean and responsible technology for the ecogical transition in the agricultural sector
La-Ville-aux-Dames (France), October 29, 2021: PowiDian, a specialist in stationary and mobile hydrogen generators, is pleased to announce the commissioning of its new hybrid generator in the heart of the Savoyard mountain pastures near Lake Roselend, for the Société d'Economie Alpestre de Savoie (SEA 73).
A new hydrogen/solar hybrid unit 
This hybrid generator has been specifically developed for this agricultural use by PowiDian. Its main energy source is hydrogen, supplied by portable cylinders pressurised at 200 Bar, with solar panels fixed to the roof of the milking machine as an additional energy source, in order to lower hydrogen consumption. 
Hydrogen powers a fuel cell attached to batteries, which delivers 10KW of electrical power and, in turn, powers the milking machine for a herd of 70 cows. Installed on the fork of the tractor currently used in the Alpages, this hybrid system is a robust and compact piece of equipment to carry out the two daily milkings over five months each year.
Jean-Marie Bourgeais, co-Founder and President of PowiDian, says: "We salute the ecological and innovative approach of the SEA73 breeders, who were enthusiastic about the idea of implementing this new, clean and responsible technology. This new type of hydrogen unit opens the door to its possible uses in the agricultural world where innovative systems to support the ecological transition are needed."
A project born from the willingness of local breeders to preserve the protected area of Beaufortain 
The PowiDian generator processes milk used to make Beaufort PDO cheese in the Alpine region of Beaufortain. Connected to the milking unit, it replaces the traditional use of the tractor's diesel engine.
Emmanuel Huguet, President of the SEA "Société d'Economie Alpestre", declares: "The generator designed by PowiDian, which only emits water vapour, is the response to the great will of our association's members and all the agricultural actors in the Beaufortain region to be actively involved in the decarbonisation of dairy and cheese production. We are very pleased with this project, carried out in close collaboration with PowiDian, and we thank the EDF teams for their support."
About PowiDian  
PowiDian is a pioneer in solutions for the production and storage of energy produced via "green" hydrogen and has been working for more than 10 years on the national ecological transition thanks to its autonomous stations and its mobile or stationary "zero emission" hydrogen generators. In September 2021, the group launched PowiDian Mobility, a subsidiary dedicated to the development of electric utility vehicles. Based in La Ville-aux-Dames in the Centre-Val de Loire region, PowiDian currently employs 40 people. PowiDian has been a holding of Xerys Invest since 2014 and partners with the Bouygues group since 2020.  
For more information: www.powidian.com 
About Xerys Invest
Xerys Invest is a French investment company primarily positioned on trending sectors that include healthcare & Life Sciences, renewable energy/GreenTech and new digital technologies. As such, Xerys Invest supports companies in industries undergoing major transformation to address economic, environmental, and societal challenges that have great ambitions for their growth and international expansion. 
In its market, Xerys Invest stands out as much for its modus operandi and the strategic and operational support it provides to portfolio companies, as for the range of à la carte investment opportunities offered to investors and the firm's close relations with them, or its sector-based approach. Lastly, Xerys Invest has considerable sector expertise, bolstered by a strategic committee made up of recognized specialists and experts in key sectors. 
For more information: www.xerys.com